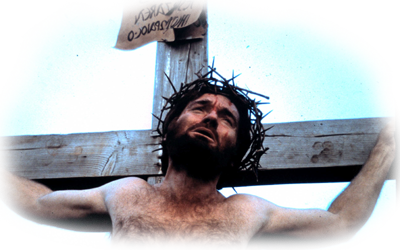 Rev. Frank Roughton Harvey
In 1957, Frank Roughton Harvey re-dedicated his life to Christ in response to what he felt to be a challenge from God to establish The Living Word Outdoor Drama.
He left the world of professional theater, in which he was currently engaged, with the dream of building an outdoor theater for an annual presentation of Jesus' life and ministry. This production was to be presented by a cast of Christian performers. He returned home and married Hazel Creasy, who loved Jesus and shared his dream.
While enrolled in seminary at Emory University in Atlanta, Georgia, he was able to study Biblical archaeology under eminent scholars both at Emory and in the Holy Land. He earned his way through seminary and graduate school by presenting Biblical monodramas for thousands of churches and groups throughout the United States and other countries. His most famous presentation, The Sermon on the Mount, has been performed over 4,000 times. While in seminary, he developed the script for an outdoor drama. His thesis project for his Master of Fine Arts degree was to design and build a scale model complete with scenery for an outdoor theater. This became the model for The Living Word. (See it on display in our Welcome Center.)
While teaching Bible and Drama at Andrew College, Georgia, he made an indoor presentation of The Living Word. In 1968, Frank produced his play again, this time in the Atlanta Stadium, sponsored by Council of Churches of the metropolitan area, under the title, "Behold the Man. " It was an interracial festival of faith, and all races participated in cooperation with most major Christian communions. Dr. William Holmes Borders, the eminent pastor of Wheat Street Baptist Church, was picked to play the role of Christ for this event. It was attended by over 50,000 people in a single night. Newspapers and magazines heralded it as "The Miracle That Saved Atlanta."
Soon after moving to a farm in Cambridge, Ohio, "so that our children might know some of the joys of growing up on a farm," God revealed in a vision to Hazel what He had in mind for the farm and where the amphitheatre should be located. In 1975, Frank, Hazel and Grace Harvey, Dick, Neva and Pam Vessels, Tom Flowers, Bishop Fred Montgomery, the Dave Blackwood, and a crew from NCR, led by Ron Lindy, labored long with other volunteers to prepare the site with temporary scenery left from the stadium productions. The experimental venture that first year was an outstanding success.
With that, The Living Word Outdoor Drama was born.
In 1977, the Citizens Committee was formed into a non-profit corporation, and the Harveys gave the production to this group.
1978 brought with it the first publishing of a souvenir program, the first annual fundraising banquet, and Doris Snyder elected as the first president of the Board of Trustees. Mr. Ted Hissom of Zanesville was Artistic Director and Hazel Harvey acted as General Manager. The Living Word script was changed from the King James version to a modern English version.
In 1984, the Board of Trustees purchased the Living Word property and script from Frank and Hazel Harvey. Cal and Joyce Rice of Lake Wales, Florida, were employed as Associate Director and General Manager, respectively. Also during this summer, gates at both ends of the set were installed as a gift from Frank and Hazel in honor of his parents.
1985 was a milestone year in which The Living Word welcomed its one hundredth thousandth visitor to witness the production.
During 1986, Bernard Coffindaffer of Craigsville, West Virginia, donated, erected, and consecrated the "Crosses of Mercy" on The Living Word grounds.
1994 saw a revamping of the script by Mark Pedro, who directed the drama until 1996. 1999-2004, the Rev. Reginald Martin directed production, and during this time, three new actors were introduced into the role of Christ: Rick Kessler, Pete Hanson, and George Clark.
2005 saw another reworking of the script, this time under the direction of Samantha Servais, along with the guidance of Frank Harvey.
2006, on January 1 st, Frank Harvey went to be with the Lord after a long battle with cancer. But he left a wonderful legacy in the drama, which continues as always because of the dedication of the volunteers who keep the dream alive.
2008, Frank's wife, Hazel Harvey was diagnosed with inoperable stage 4 cancer in the fall of 2007. On Friday, January 11, 2008 she passed away while on vacation with her two daughters, Grace and Esther. Hazel never failed to be encouraging, positive, and inspirational. Her southern graciousness and sparkling smile inspired all who came in contact with her. Few realize that Hazel was the driving force behind Frank. Thank you, Hazel and Frank, for your vision.
In 2010, General/Marketing Manager, Kitrina Mazaher, introduced additional productions and events to the Living Word season, including a children's production, book signings, religious speakers and entertainers, and gospel concerts by legendary gospel singer Larry Gatlin.
As of 2013, the Living Word has established an endowment fund, new entrance pillars have been added, new sound and lighting system installed by Mitch Mazaher, two new light towers and the beginnings of a memorial chapel in Frank and Hazel's name. We also introduced a new actor in the role of Christ, John Arnett.
In April of 2015, The Living Word Outdoor Drama hired Heath A. Dawson to be its new Executive Director and turned the position into a full-time role. Since his hire, Heath has increased attendance in back-to-back years after a six-year decline and the organization celebrated its biggest season in 2016 since 2010. Also, on Saturday, September 24, 2016, The Living Word hosted SET THE ATTENDANCE RECORD NIGHT and nearly 700 visitors attended, marking its biggest crowd in nearly 20-25 years. On Saturday, August 6, 2016, The Living Word hosted its first Youth/Family Rally titled Crucifixed. National-touring acts Nine Lashes and Shiloh headlined the event, which was a huge success. The event returned in 2017 with Ashes Remain and Random Hero making stops at The Living Word Outdoor Drama. Crucifixed 2018 is slated for Saturday, August 11, with Decyfer Down, Random Hero and Gold, Frankincense & Myrrh scheduled to appear. Other projects that have either been completed or finished since Heath took over is a 228-chair Seating Campaign that began under Katrina Mazaher (the organization is thankful for her efforts on this project), a state-of-the-art LED lighting project (Artistic/Performance Director Nick Williams spearheaded the project), and a new power project that allowed The Living Word to have three-phase power to host musical acts. The Living Word is currently working on Phase II of the Seating Campaign to add another 228 seats.
UPDATE:
* A Handicapped Project was completed on Wednesday, June 14, 2017, which included a 12×18 handicapped viewing section, two 10×10 turnaround/viewing pads, a 15-foot rail section at the top of the left side of the ramp, a rail that runs down the right side of the ramp and two 8-foot park benches. As many of you know, the project turned out amazing and we had several handicapped/disabled guests use the upgrades this past season. The project is a true blessing from God. A check for $12,784.45 as issued to Jack Warne Construction on Wednesday, June 14 and the project is paid in full (keep in mind a $9,000.00 Children's Handicapped Grant from the Cambridge Rotary Foundation and a $4,000.00 donation from an anonymous grant donor paid for the project). There is still $215.55, which will need to go toward bricks or poured concrete, etc., to dress up the two 10×10 pads in the spring of 2018. The organization is writing an additional grant to Guernsey/Muskingum Electric to cover the costs. The project will more than likely be awarded to Jack Warne Construction.
* The Irwin Seating Company from Grand Rapids, Mich., was at The Living Word Outdoor Drama October 2-4 of 2017 and completed Phase II of the Seat Campaign. An additional 227 chairs were installed, raising the total number of permanent seats to 450. The total cost of the seating campaign was $25,488.12, which was paid for entirely by guests, private donations or grants. We are extremely thankful for the $5,500 from the Cambridge Kiwanis Foundation and the $5,000 from the Cambridge Rotary Foundation (both organizations will have plaques on all 55 and 50 chairs the organizations helped purchase). There is a total of $521.43 remaining after the project was paid in full, but those funds will go toward purchasing tags for the seats. This is a huge blessing provided by God. We will have Annette Ellwood provide a dedication of the new seats on Friday, June 15, our 2018 season opener.
We thank God for His continual blessing and guidance in past years and in the future.